My mission is to positively impact small businesses and their communities with awesome design for web and print.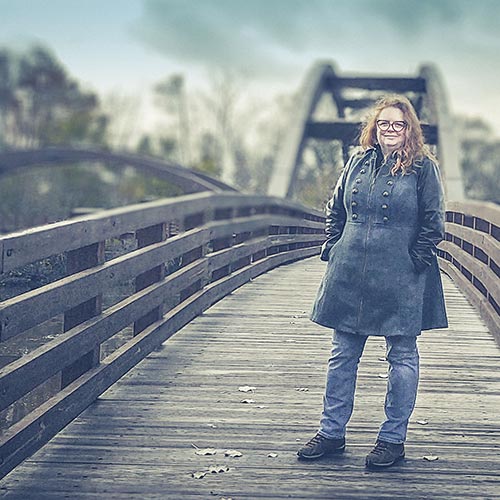 Serving others with Awesome Design
I'm a web designer with over 15 years of experience, and a graphic designer with over 30 years of experience. 
I predominately create custom, conversion-oriented websites using WordPress. I help clients develop website strategies that achieve their goals, write better copy for their websites, and understand the technical end of things. 
As a graphic designer, I've worked in every area imaginable, including
Logo and Branding Design
Print Design
Editorial Design and Layout
Ad Design
Package Design
Print Book Design and Cover Design
eBook Layout and Cover Design (particularly for Amazon Kindle/KDP)
T-shirt Design
and more, serving clients and employers with awesome design wherever I went. 
Web and Graphic Design in Michigan's Thumb
I run my freelance design studio, Thoughts and Designs LLC, from my home office and design studio in Fostoria, Michigan. I serve the design needs around Michigan's Thumb and Mid Michigan, but I have served clients all over the United States and the world.
I love the flexiblity and the challenge of freelancing as a designer for both web and print. For years, I've tried to follow the "standard" advice to specialize and find my niche, but the fact is, my niche is not as narrow as some. 
I'm not a standard kind of designer :-). 
I love building WordPress websites and I love doing all manner of Graphic Design jobs, especially logo design and book/ebook layouts. I'm here to help you grow through awesome design.
Contact me to schedule a call
If you need web design or graphic design services to grow your business or organization, I'd love to talk more with you about that. Please contact me, and we'll schedule a no-obligation video call about how I can serve you with awesome design!
Of course, work is (or should be) only part of what makes us who we are. Right?
I've been an entrepreneur since I was in my second year of college at Northern Michigan University School of Art and Design. Following graduation, I followed my wanderlust to Europe, where I backpacked across central and Eastern Europe, before settling to live and work in Austria for a season.
My advice: When in doubt, always choose to travel. Get out there and see the world. That's something I'll never regret doing. 
I've been married since 1992, and I have five adult kids. We have a dog (a Keeshond mix) named Indy and a black cat named Loki. 
I have a passion for art and coffee. I drink my coffee black (preferably Italian roast), but I love to sample lattes from any small craft coffeehouse I come across when out and about. I think this is a leftover from the time I spent living in Vienna, the city of great coffee and great art. 
In my free-time, I love to do hand lettering, pen and ink sketching, and watercolor. 
I collect quotes, verses, song lyrics and any humorous or inspirational sayings. My mind is in constant motion, so I love to fill it with good things that encourage me to be the best version of myself. 
My favorite verse, from the Bible, is:
Thanks to the wonders of the Internet, my education didn't end at graduation. Given how fast technology continues to change, I've had to keep up with those changes, and adopt a lifestyle of continuous education so I can improve my awesome design skills.  
I continue to learn and grow with courses online through websites like Skillshare,  LinkedInLearning.com, and HubSpot Academy, not to mention Tuesdays Together with the Rising Tide Society. I also get inspiration from Adobe's Live videos.  
One of my favorite sources of inspiration is the Adobe MAX conference every October. Have you attended?
Designing and Serving from my core values
I create designs that move towards client goals rather than just being pretty.
As the market and technology constantly changes, I stay on top of these changes so my clients don't have to.
I strive to be a source of encouragement, inspiration, and motivation in a negative world.
I serve my clients (and their customers and audience) with my design skills and experience.
I enhance my client's messaging with awesome design that supports their content and communicates clearly to their audience.
I love helping potential clients understand their design options and make informed choices, rather than simply selling my services.
I help handle the tech hurdles business owners face in taking their businesses online, because they are busy enough.
Did you want to talk more about how I can serve you with Awesome Design? Let's schedule a time to talk via Google Meet, Zoom, or maybe in person over coffee.