When it comes to design, keep it simple!
If design is not a skill you possess, Canva can help. Canva is an app with free and paid features that allows you to create amazing graphics for your website and social media without hiring a designer.
I'm a web and graphic designer, and yet, I just said that.
When you are starting your side hustle, you are probably shorter on cash than you'd prefer. I get it. Hiring a designer with skill can be pricey. While you're still bootstrapping it, Canva can help bridge the gap.

Even though I have the full Adobe Creative Cloud at my disposal (which I use all the time), I still use Canva for social media graphics. It helps me whip out social media images to share with very little effort.
This app creates graphics based on the common sizes for social media platforms and your custom sizes. For example, if I want an image for a pin on Pinterest, I can click on Pinterest Pin. Canva will give me an artboard in the optimal dimensions for Pinterest. Also, I'll see templates for that size, if I want to use a pre-made template.
With templates, I can change it up as needed. This way, templates become a starting point, not a finished graphic.
What features make me love Canva?
Setting Up My Brand
If you already have a logo, brand colors, and brand fonts, this is for you. This feature is also helpful if you have certain fonts and colors you love to use.
It lets you set up branding for your business. This way, your colors, fonts and logos are always handy when working.
I have brand standards for Thoughts and Designs set up inside of Canva so I can add my logo, brand fonts, and brand colors to any of the pre-made templates.
Pre-Made Templates
Speaking of templates, I didn't think I'd use this feature as much as I do.
After all, I'm a designer. I don't need pre-made templates.
Ah, but they sure are handy when working efficiently.
With the Canva templates, it does not limit you to only changing the wording. You can move, change or remove any part of the template to suit your needs. These templates are as a starting point, rather than the final product.
Built-In Stock Art
As a designer, I have paid subscriptions to a few royalty-free stock art websites. It's still nice to have a large amount of stock art available to me on Canva, right where I'm working.
What do I mean by stock art? Stock (or royalty-free stock) is any photo or graphic you can use in your creations legally. The practice of using pictures you've found on Google is illegal unless the owner of the picture gave you permission.
The stock art available on Canva is legal for you to use within the bounds of the terms and conditions of Canva, so you don't have to worry about copyright issues.
My Favorite Thing About Canva
If I had to pick a favorite feature in Canva, I'd choose flexibility. I love the ability to design on my computer or on the go. If I want to share a graphic from my account dashboard to my social media, I can. For simple design projects like social media quotes, I can keep my workflow simple with Canva while creating a quality product on my computer or on mobile.
This page contains affiliate links for different tools for entrepreneurs I love and recommend. What does this mean for you? The law requires me to let you know if I might get a small commission for recommending a product or service if you buy the product or service after clicking my link. This does not cost you anything extra. I only recommend products and services that I love to use.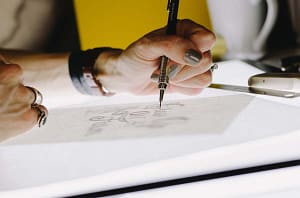 When you are a non-designer entrepreneur on a shoestring budget, how do you create effective designs for your baby business? In this podcast episode with
Keep Reading »